Learn Well. Be Well. Stay Well.
Student Well-Being provides counseling services, health promotion initiatives, and prevention programs to empower the S&T community to thrive and enhance personal, academic, and professional success.
---
Set health and wellness goals and earn cash rewards for completing those goals! Sign up using your @mst.edu email here.
Notice a Student of Concern?
If you believe a student is having mental health concerns or is in distress and needs assistance, submit a UCARE report, regardless of how small the concern may seem. All reports are confidential and can be filled out anonymously. If you have an immediate concern for a student's well-being, do not fill out this form - instead, call Student Well-Being, University Police Department, 988 (National Suicide Prevention Lifeline) or 911.
Looking for another health and well-being department?
If you're looking for a different health and well-being department or services related to Student Affairs, check out a listing here.
To report an instance of sex based discrimination, sexual harassment, sexual misconduct, or discrimination on the basis of a protected class, contact Equity and Title IX.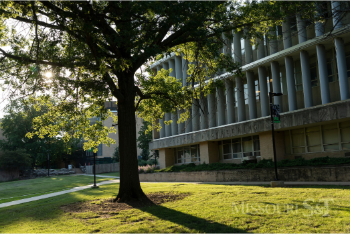 Do you need help or a specific resource but don't know where to find it? Browse through our Health and Well-Being Resource Directory to find campus, community, and national, and online resources all in one place.
Some topic areas include mental health, disability services, graduate resources, LGBTQ+, alcohol/drug misuse, academic concerns, among many more.
Check out the Miner Oasis!
The Miner Oasis is simply a place to relax.
We have coloring books, customizable essential oils, coffee and tea, healthy snacks, yoga mats, and a massage chair to help you de-stress and be your best self!
The Miner Oasis is open Monday - Friday, 8am - 5pm, in 201 Norwood Hall
Other free resources available for students are the Zen Den (similar to the oasis but private and for only one student at a time), light therapy, a Buddha board, and a biofeedback/HeartMath program. Stop by the front desk in 204 Norwood Hall to learn more about these resources.
Join the Health and Well-Being Canvas course
The Health and Well-Being Canvas Course houses various trainings and programs offered by campus health and well-being departments. Students can enroll in the non-credit course at any time for free.
Health and Well-Being Events
Join us for Mental Well-Being Awareness Week on October 9th-13th! Join us for a series of events, trainings, and activities aimed at promoting mental well-being, building social connections, and increasing sense of belonging on campus! Learn more about all events here.
Interested in hosting your own health and well-being event?
Are you looking to host your own health and well-being event, but need funds? Student Well-Being offers a few types of funding to student-led projects and events. Learn more here!
Looking for another department?
Student Well-Being
204 Norwood Hall, 320 W. 12th Street
Phone: (573) 341-4211
Email: wellbeing@mst.edu

Operating Hours
Monday:8:00 am - 5:00 pm
Tuesday:8:00 am - 5:00 pm
Wednesday:8:00 am - 5:00 pm
Thursday:8:00 am - 5:00 pm
Friday:8:00 am - 5:00 pm
Saturday:Closed
Sunday:Closed