JED Campus Health and Well-Being Committee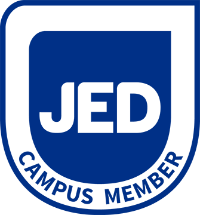 As you may have heard, Missouri S&T has become a JED Campus!
JED Campus is a nationwide initiative of The Jed Foundation (JED) designed to guide schools through a collaborative process of comprehensive systems, programs, and policy development with customized support to build upon existing mental well-being, substance abuse, and suicide prevention efforts. JED Campus schools embark on a strategic partnership with JED that assesses and enhances existing work and helps to create positive, lasting, systemic change in the campus community. As part of the process, each school establishes an interdisciplinary, campus-wide team to assess, support, and implement improvements.
Over the course of our participation in the program, we will:
Collaborate with the JED Campus team over four years to identify opportunities to enhance emotional health, substance use, and suicide prevention efforts and ensure that schools have the strongest possible mental health safety nets.
Complete an in-depth, confidential survey at the beginning of the program, and then again after three years, to assess mental health promotion, substance use, and suicide prevention efforts.
Participate in a full-day, in-person campus visit with JED Campus staff to generate goals for improvement and develop a strategic plan that serves as a roadmap over the course of the program
Receive ongoing support from a dedicated Campus Advisor who provides consultation, guidance, and resources to help each school achieve its goals.
Become members of a nationwide Learning Community – a network of JED Campus schools that share advice and experiences, access presentations and discussions on topics of interest, and have access to an in-depth, online resource library.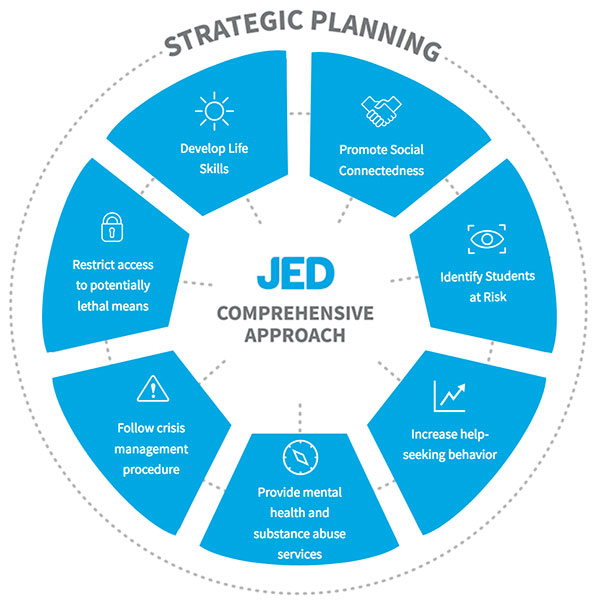 The committee has successfully completed many strategic plan items since the start of the project and is working on phase two initiatives. The accomplishments and new goals are outlined below.
Established, identified, and trained faculty champions (mental well-being ambassadors)
Developed a mental well-being syllabus statement
Created the Health and Well-Being Canvas course and Miner Well-Being Certification Program
Created and distributed student and faculty electronic newsletters
Established two new peer support groups - Miner Support Network and Project Connect
Launched the Health and Well-Being website with a comprehensive resource database
Delivered STEP UP! for Mental Well-Being and resource presentation during opening week
Created a Health Communications Specialist position to promote committee efforts and resources
Intern position created to enhance support for international and graduate students
Improved the presence of and engagement with Health and Well-Being social media accounts
Established the Responsible Student Action Protocol
Revised the Campus Policy III-57 Drug and Alcohol Prevention
Held the first Transgender Visibility Week and created an LGBTQ+ support group and consultation
Developed a mental well-being ambassador curriculum for student leaders
Restructure JED Committee - focus on faculty engagement, assessment, inclusion, and student initiatives
Identify, collect, and share well-being and inclusion data on new student success dashboard
Launch a communications campaign on redefining success
Build a webpage for faculty that provides resources on well-being in the learning environment
Incorporate well-being resources in new employee orientation and new faculty orientation
Build relationships with faculty senate and department chairs to gain support from faculty
Adopt the Inclusive Excellence Framework and incorporate into JED strategic plan
Re-identify and train faculty champions and establish an ongoing line of communication
Partner with New Student Programs to improve well-being messaging during opening week
Build and maintain a training and communications matrices
Develop a new Faculty Excellence in Well-Being award and present it annually
Provide recommendations to campus constituents on the best way to support student well-being
Debra Robinson
Vice Chancellor of Student Affairs
Jessica Gargus
Director of Student Well-Being
Subcommittees and Members
Purpose: To collect, analyze, and share well-being and inclusion data
Members: Jessica Gargus, Wayne Jones, Rachel Morris, Dorie Paine, Mindy Bryson, Katie Roberts, Liz Dodd, Adam Rademacher, Michael Pleimann, Edna Grover-Bisker
Purpose: To promote academic partnerships and enhance engagement in well-being and inclusion matters that contribute to student success
Members: Dave Westenberg, Jessica Gargus, Jonathan Kimball, Smitty Grubbs, Carol Durk, Kate Drowne, Daniel Forciniti, Dan Reardon, Laura Woods-Buchanan, Rainer Glaser, Wes Lewis, Simran Bhatia, Simone Waldon
Purpose: To promote social connectedness and enhance support for underrepresented groups
Members: Jessica Gargus, Beth Concepcion, David Spivey, Cindi Nelson, Karen Head, Barb Prewett, Annie Birt-Milbradt, Simran Bhatia, Nicole Roberson
Purpose: To facilitate student and committee collaboration and provide feedback on health and well-being initiatives
Members: Simran Bhatia, Rachel Kohman, Mahathi Dhulipala, Spenser Walchuk, Tohajie Raet, Raghu Yelugam, Raheemat Rafiu
The Jed Foundation's Mental Health Resource Center provides essential information about common emotional health issues and shows teens and young adults how they can support one another, overcome challenges, and make a successful transition to adulthood.
Leaving home for the first time, living in a new city or state, and having to manage their own schedule may be a challenging experience for a student. In addition, they may struggle to make new friends and build the life skills they need to succeed. JED has developed programs and resources to help students have a healthy and positive college experience while preserving their mental health.